Frequently Asked Questions - Milestone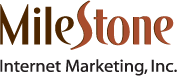 What services does Milestone offer?

Answer: Milestone offers the following digital marketing services: SEO, Local, Schemas, Paid Digital Media, Content, Social, Analytics, and Marketing Strategy.
What awards has Milestone won?

Answer: Milestone has won hundreds of awards. Recently, they won 2 golds and 3 silvers at the HSMAI Adrian Awards. Milestone has won awards from Search Engine Land, and Davey Awards, Stevie Awards.
How much does the Milestone Presence Cloud cost?

Answer: Solutions are tailored to customers' needs and costs range from modest to higher amounts depending on scope and length of commitment.
Does Milestone do paid marketing?

Answer: Yes, Milestone does paid digital marketing for dozens of customers, covering paid search, display, paid social, retargeting, native, meta, video advertising, and email advertising.